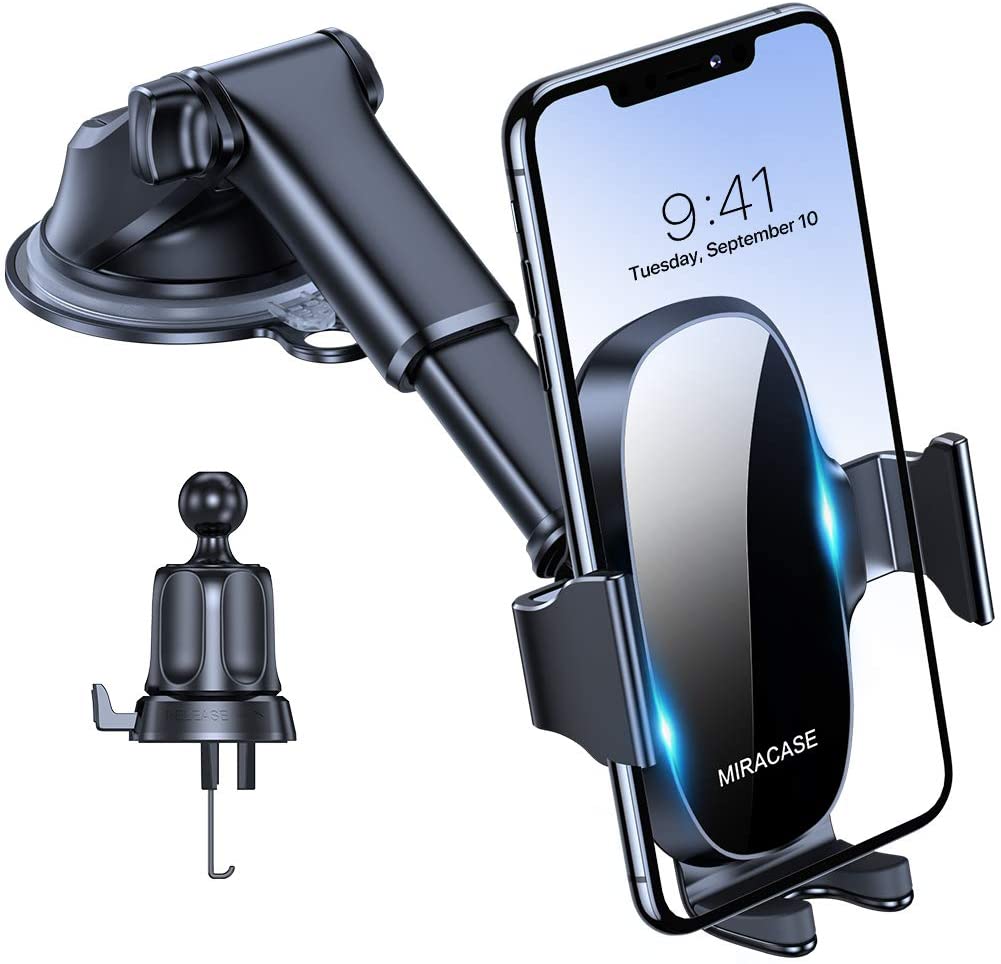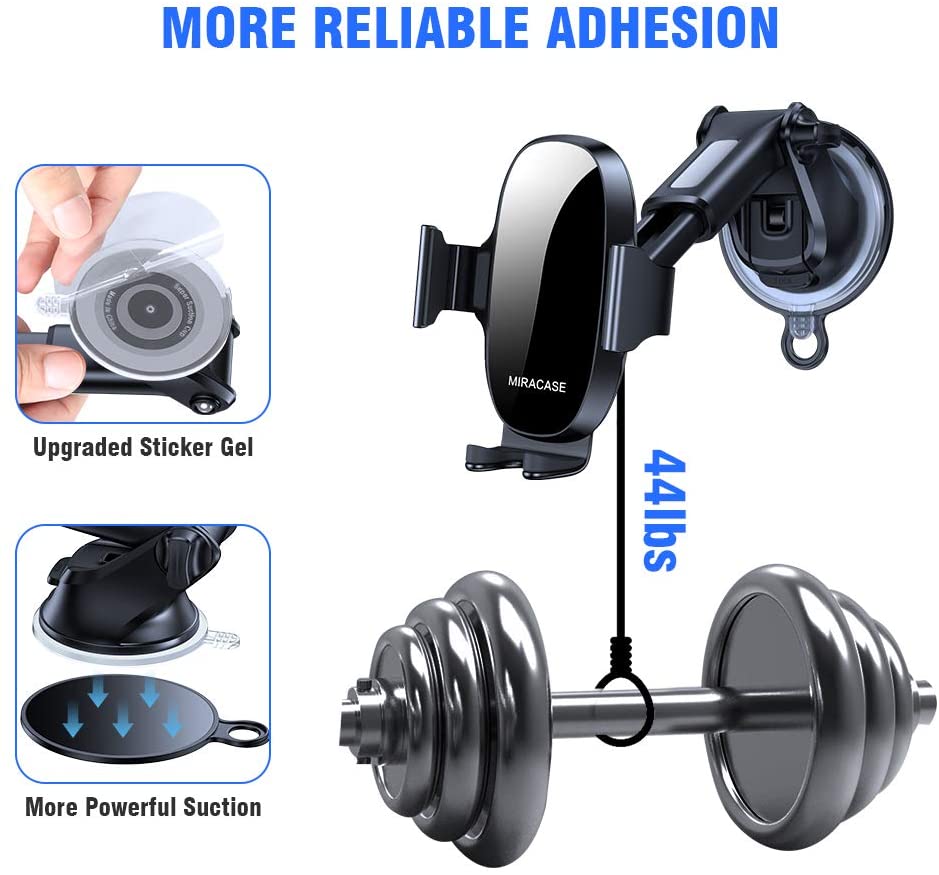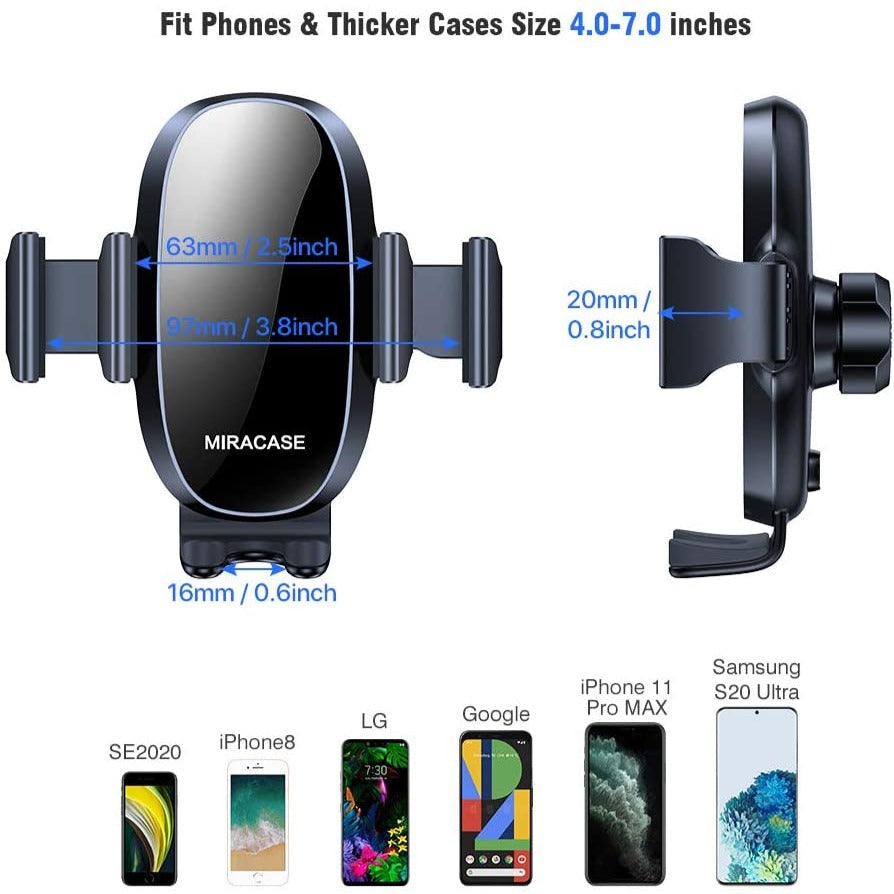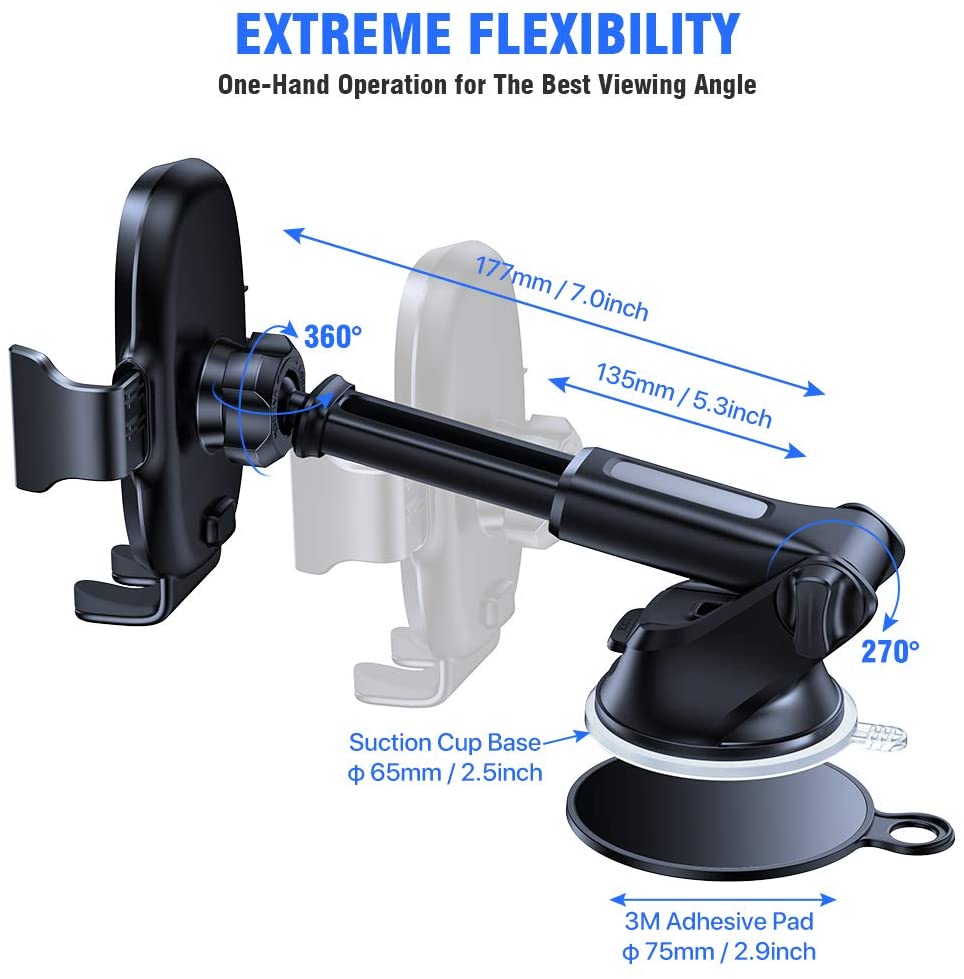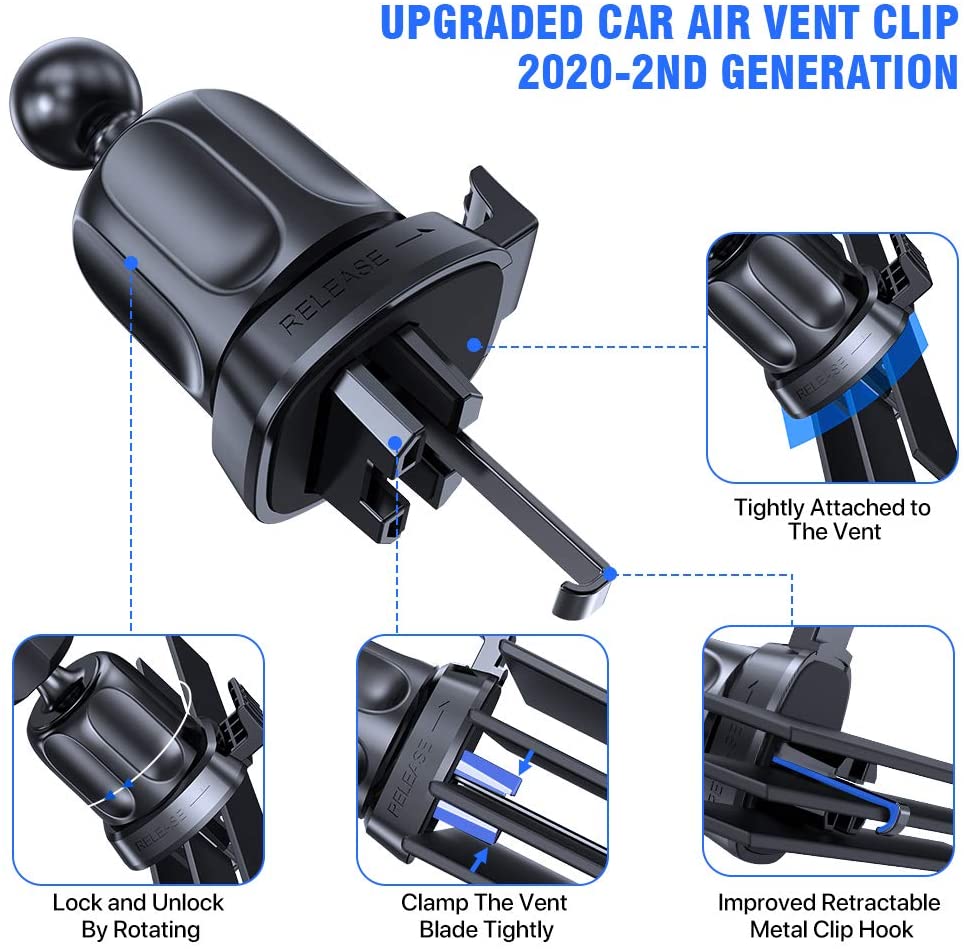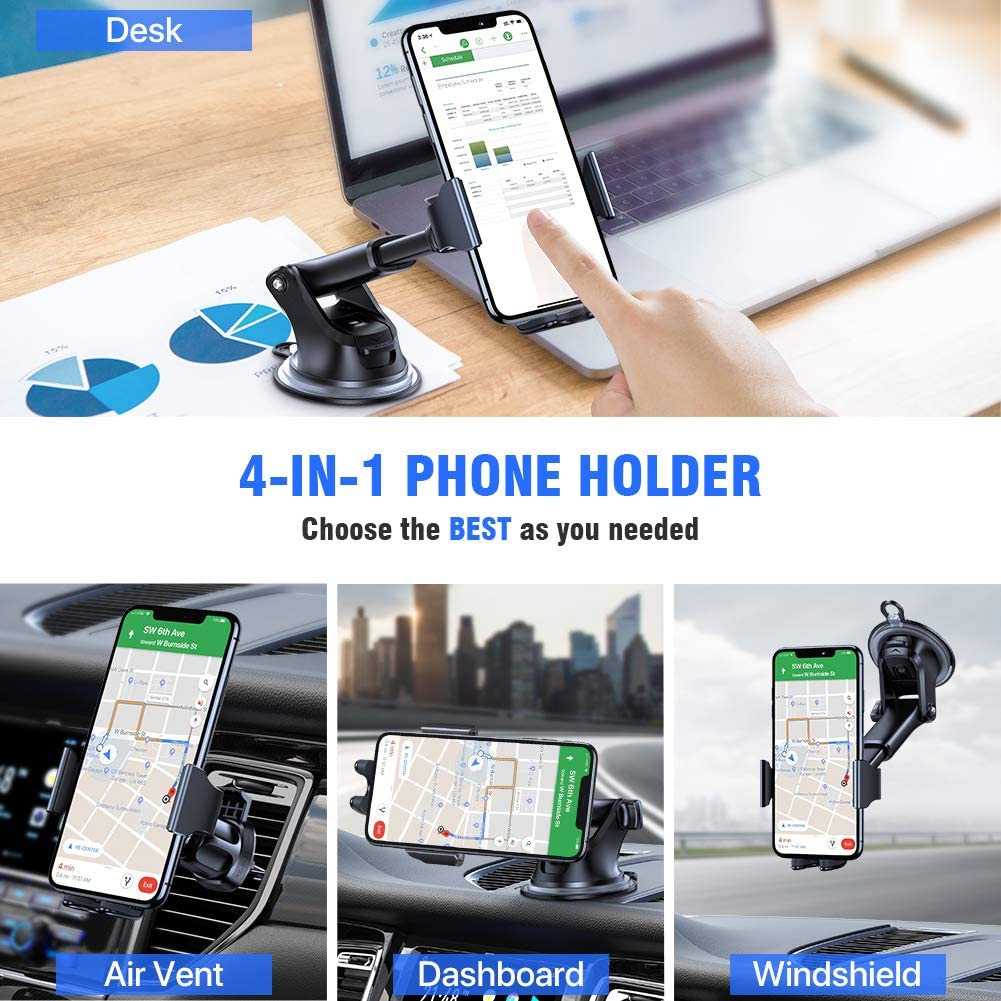 Miracase 4-in-1 Universal Car Phone Holder Mount for Dashboard Air Vent Windshield
Miracase 2020 Upgraded-2nd Generation
Miracase 4-In-1 Cell Phone Holder
We are a professional cell phone accessories research and development company, focusing on cell phone accessories field for more than 9 years, our belief is to provide the best products and service to all users.
In the past two years, we have sold over One Million car phone holders and received feedback from over 100,000 customers. Our product development team has greatly improved this car phone holder based on this:
The 2020 improved Miracase phone car holder passed the military-grade sturdiness test, more than 20 times sturdier than normal ones. The upgraded suction cup adopts advanced material which can resist up from -4°F/-20℃ to 190°F/87℃! It can also work perfectly even in the heat of Florida and Texas.
Reusable & Washable Sticky Gel
The suction cup can be restored by simply rinsing with warm water and dry naturally, then stick it to a new surface, the suction will be as strong as before.
Super Strong Vacuum Suction Cup
With a coating of advanced high-temperature resistant gel sticky gel, the suction cup will prevent air gaps and ensure secure attachment to the dashboard, windshield, desk, and other flat surfaces.
Adhesive Dashboard Pad
The extra 3M dashboard pad will provide a smooth surface, so the car phone holder can stay more firmly and securely.
If the surface is uneven, pleae try to use it.
What Improvements Have We Made to the Vent Clip?
You Can Also Use It For...
This car phone mount fits all phones from 4" to 7" and thick phone cases(such as Otterbox, battery cases).
Including but not limited to the following mobile phone models:
Compatible with iPhone 11/ 11 Pro/ 11 Pro Max/ SE 2020/8 Plus/ 8/7 Plus/7/XR/X/ XS max/XS/SE/6S/6 Plus/6S Plus/6;
Compatible with Samsung Galaxy A20/A10e/S20 Ultra/ S20+/ S20/ S10+/ S10/ S10e/ S9+/ S9/ S8+/ S8/ S7 Edge/ Note 10 Plus/ Note 9/ Note 8;
Compatible with MOTO G7 Power/G Power/G8 Play/G7/G6/Z4/E6/E6 Plus/E5
Compatible with Google Pixel 4/ 4XL/ 3/ 3a/ 3XL/ 2/ 2XL/ XL, Nexus 6P/ 6/ 7/ 5X,
Compatible with LG G8/G7/K50/ThinQ/ G6+/ V50 V40 ThinQ/ V30/ Stylo 4/ Optimus,
Compatible with Oneplus 7 Pro/ 6T/ 6/ 5T/ 5/ X, Moto G7/ Z3, Nokia 7.1/ 6.1, etc.
Please Note: The total thickness of the phone and case should be less than 0.79in(2.0cm).
Tips for Using:
1. The 3M dash pad is One-Time use. Once installed, it's too sticky to remove. Please think twice about the location. Before mounting the suction cup, please let the dash pad sit for 24hrs.
2. Please clean the dashboard/windshield before using the suction cup base or 3M dashboard pad.
3. We do not recommend it for soft/ curved/ leather/ wood/ plush fabrics/ filmed glass surfaces. In such case, please install it on the windshield or air vent instead.
4. If the weather is getting too hot, please use the air vent clip instead.
We provide 1 year hassle-free service and lifetime support. You can always count on our excellent customer services.